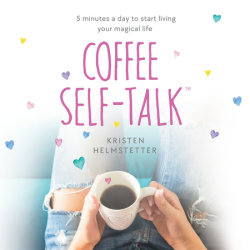 Coffee Self-Talk
5 Minutes a Day to Start Living Your Magical Life
Imprint: Books on Tape
Genre: Self-Help - Affirmations

Release Date: November 01, 2022
6 Hours
List Price: $57
ISBN: 9780593677094
Inspiring affirmations to help you boost your self-esteem, find happiness, and attract the magical life of your dreams—all with your next cup of coffee!

Do you want to live an inspired life of sparkling adventure and achieve goals you never thought possible? Get started this morning! Coffee Self-Talk introduces an accessible, powerful routine to pair with your morning coffee so you can start every day with positivity and energy. This easy daily ritual only takes five minutes and starts with positive, uplifting thoughts to reframe the way you talk and think about yourself. By priming your brain for happiness, success, and self-love, Coffee Self-Talk helps you take control of your life, increase your confidence, and manifest your dreams. With included self-talk scripts, guidance on how to personalize them for your own goals, and ideas for creating your own affirmations, this book will help you:

• Learn to love yourself
• Unlock happiness, resilience, and confidence
• Change your bad habits
• Attract wealth, success, and prosperity

No matter your circumstances, now is the time to live your best, most magical life—faster than it takes to finish your first cup of coffee!