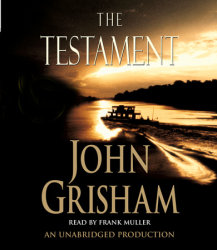 BOT Exclusive
The Testament
A Novel
Imprint: Books on Tape
Genre: Fiction - Thrillers - Suspense

Release Date: November 27, 2007
14 Hours and 34 Minutes
List Price: $85.50
ISBN: 9781415951361
#1 NEW YORK TIMES BESTSELLER • In a plush Virginia office, a rich, angry old man is furiously rewriting his will. With his death just hours away, Troy Phelan wants to send a message to his children, his ex-wives, and his minions—a message that will touch off a vicious legal battle and transform dozens of lives.

Nate O'Riley is a high-octane Washington litigator who's lived too hard, too fast, for too long.  His second marriage in a shambles, and he is emerging from his fourth stay in rehab armed with little more than his fragile sobriety, good intentions, and resilient sense of humor.  Returning to the real world is always difficult, but this time it's going to be murder.

Rachel Lane is a young woman who chose to give her life to God, who walked away from the modern world with all its strivings and trappings and encumbrances, and went to live and work with a primitive tribe of Indians in the deepest jungles of Brazil.

In a story that mixes legal suspense with a remarkable adventure, their lives are forever altered by the startling secret of The Testament.