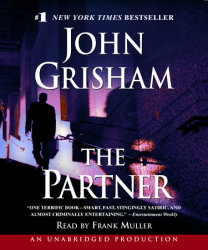 The Partner
A Novel
Imprint: Random House Audio
Genre: Fiction - Thrillers - Suspense

Release Date: February 26, 2008
12 Hours
List Price: $29.99
ISBN: 9780739343821
Categories:
Fiction - Thrillers - Suspense, Fiction - Legal, Fiction - Thrillers - Legal
Tags:
thriller, mystery, legal thriller, legal, suspense, law, crime, john grisham, grisham, lawyers, mississippi, legal fiction, embezzlement, crime fiction, 1990s, usa, legal stories, courtroom, american, faked death, biloxi, popular fiction, action, english, american fiction
#1 NEW YORK TIMES BEST SELLER • Once he was a well-liked, well-paid young partner in a thriving Mississippi law firm. Then Patrick Lanigan stole ninety million dollars from his own firm—and ran for his life.

They watched Danilo Silva for days before they finally grabbed him. He was living alone, a quiet life on a shady street in Brazil; a simple life in a modest home, certainly not one of luxury. Certainly no evidence of the fortune they thought he had stolen. He was much thinner and his face had been altered. He spoke a different language, and spoke it very well. But Danilo had a past with many chapters.

Four years earlier he had been Patrick Lanigan, a young partner in a prominent Biloxi law firm. He had a pretty wife, a new daughter, and a bright future. Then one cold winter night Patrick was trapped in a burning car and died a horrible death. When he was buried his casket held nothing more than his ashes.From a short distance away, Patrick watched his own burial. Then he fled. Six weeks later, a fortune was stolen from his ex-law firm's offshore account. And Patrick fled some more. But they found him.