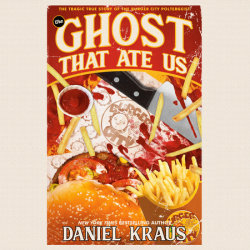 The Ghost That Ate Us
The Tragic True Story of the Burger City Poltergeist
Imprint: Books on Tape
Genre: Fiction - Thrillers - Supernatural

Release Date: July 12, 2022
14 Hours and 6 Minutes
List Price: $95
ISBN: 9780593669006
The Ghost that Ate Us is a true crime style mockumentary that details the events leading up to a massacre at a fast food restaurant. Using the backdrop of Jonny, Iowa, a truck stop town in a flyer over state, Kraus explores the many ways forgotten Americans with little money and less prospects can hasten their own doom. At turns darkly absurd and tragically grim this story will have you Googling to make sure nothing like this ever really happened because it just might be crazy enough to be true

You remember the brutal crime, don't you?

Maybe you read about it on Twitter. Maybe a friend sent you a news clip. Maybe you saw it on an episode of Spectral Journeys that night you were flipping through channels, unable to sleep.

Maybe after reading the true story, you won't ever sleep again.

On June 1, 2017, six people were killed at a Burger City franchise off I-80 near Jonny, Iowa. It was the bizarre and gruesome conclusion to nine months of alleged paranormal activity at the fast-food joint—events popularly known as "the Burger City Poltergeist." The story inspired Facebook memes, Twitter hashtags, Buzzfeed listicles, Saturday Night Live sketches, and more. But the case was never much more than a punchline…until bestselling writer Daniel Kraus (The Shape of Water, The Living Dead) decided to head to Iowa to dig up what really happened.

Presented here is the definitive story of "the most exhaustively documented haunting in history," including—for the first time ever—interviews with every living survivor of the tragedy. The employees of Burger City were a family. They loved one another. At least, at the beginning. But love can make you do unspeakable things.