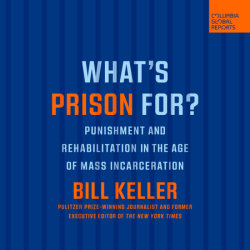 What's Prison For?
Punishment and Rehabilitation in the Age of Mass Incarceration
Imprint: Books on Tape
Genre: Social Science - Penology

Release Date: October 04, 2022
3 Hours and 57 Minutes
List Price: $38
ISBN: 9780593662687
What's Prison For? examines the "incarceration" part of mass incarceration. Our prisons remain a shameful waste of lives and money, feeding a pathological cycle of poverty, community dysfunction, crime and hopelessness. What is the alternative? This book makes the case for better rehabilitation and examines attempts to assure that people return from prison better equipped than when they arrived for the challenges life presents.