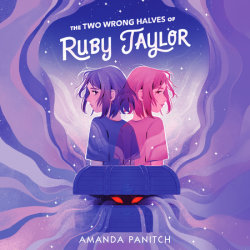 The Two Wrong Halves of Ruby Taylor
Imprint: Listening Library
Grades: Grades 3-7
Ages: 8-12 years
Release Date: August 09, 2022
7 Hours and 31 Minutes
List Price: $56
ISBN: 9780593633687
A new spooky and heartwarming middle-grade novel about a young Jewish girl who must battle a wandering spirit and her own identity.

Of her two granddaughters, Grandma Yvette clearly prefers Ruby Taylor's perfect cousin Sarah. Ruby suspects Grandma Yvette doesn't think she's Jewish enough.

So when Sarah starts acting out—and getting in trouble—Ruby can't help but be pleased.

Yet, when Sarah takes things too far, Ruby's afraid that Sarah might be possessed. . . by a dybbuk, an evil spirit, that Ruby accidentally released from Grandma Yvette's basement. Ruby is determined to save her cousin, but a dybbuk can only be expelled by a "pious Jew." If Ruby isn't Jewish enough for her own grandmother, how can she be Jewish enough to fight a dybbuk?

This new middle-grade novel from Amanda Panitch deftly tackles themes of family and friendship while celebrating the parts of a child's identity that no one else can take away.