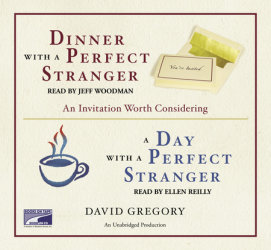 Dinner With a Perfect Stranger and Day With a Perfect Stranger
Imprint: Books on Tape
Genre: Religion - Christian Living - General

Release Date: January 29, 2008
3 Hours and 59 Minutes
List Price: $57
ISBN: 9781415951330
This audiobook includes:

Dinner With a Perfect Stranger:
You are Invited to a Dinner with Jesus of Nazareth.

The mysterious envelope arrives on Nick Cominsky's desk amid a stack of credit card applications and business-related junk mail. Although his seventy-hour workweek has already eaten into his limited family time, Nick can't pass up the opportunity to see what kind of plot his colleagues have hatched…
 
The normally confident, cynical Nick soon finds himself thrown off-balance, drawn into an intriguing conversation with a baffling man who comfortably discusses everything from world religions to the existence of heaven and hell. And this man who calls himself Jesus also seems to know a disturbing amount about Nick's personal life.

A Day With a Perfect Stranger:

The conversation continues.
 
What if a stranger knew you better than you know yourself?
 
Exasperated by her husband's sudden new obsession with Jesus, Mattie Cominsky views an out-of-town business trip as a welcome opportunity to reflect on their marriage—and to decide if it's time to put an end to this painfully unrewarding relationship.
 
Aboard the plane, Mattie is relieved to find herself seated next to a passenger who shares her scorn for religion. After she confides her husband's unexpected turn, their conversation soon leads to a fascinating exploration of spirituality, God, and the quest for meaningful connection.
 
Mattie's skepticism softens under the perceptive insights of this stranger, and she finds herself confronting the unspoken longings of her soul. As his comments touch on personal issues he couldn't possibly know about, she begins to wonder if she's misjudged not only Nick but also the God he now claims to believe in.