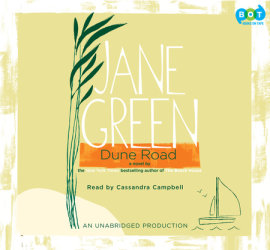 Dune Road
Imprint: Books on Tape
Genre: Fiction - Women

Release Date: June 16, 2009
11 Hours and 5 Minutes
List Price: $95
ISBN: 9781415948637
Set in Connecticut's tiny Gold Coast town of Highfield, Dune Road tells the story of Kit Hargrove, whose divorce has granted her a new lease on life. No longer a Wall Street widow with the requisite diamond studs and Persian rugs, Kit revels in her clapboard Cape with the sea green shutters and sprawling impatiens. Her kids are content, her ex cooperative, her friends steadfast, and each morning she wakes up unable to believe how lucky she is to have landed the job of her dreams: assisting the blockbuster novelist Robert McClore.
    
A mysterious tragedy drove this famous writer into seclusion decades ago, and few besides Kit are granted access to his house at the top of Dune Road, with its breathtaking views of Long Island Sound. But all that is about to change.
    
Warm, witty, and gloriously observed, Dune Road is Jane Green at her best, full of brilliant insights into the challenges that come with forging a new life.