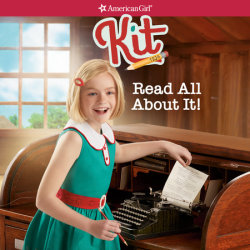 Kit: Read All About It
Imprint: Listening Library
Grades: Grades 3-7
Ages: 8-12 years
Release Date: January 17, 2023
2 Hours and 42 Minutes
List Price: $34
ISBN: 9780593614969
Kit's story begins with the first book in her series.

Kit Kittredge has a nose for news—but she never dreamed that the news stories about the hard times of the Depression would become her own story. First Mother's bothersome friends move in with the Kittredges. Then Dad loses his business, and Kit's family could lose their house! Things look hopeless, but a clever idea might let her family keep their home. Can Kit help pull it off?

This audiobook includes a historical "Looking Back" section about Kit's world in 1934.