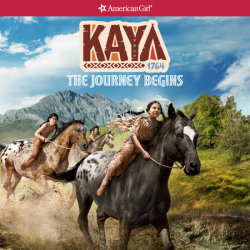 Kaya: The Journey Begins
Imprint: Listening Library
Grades: Grades 3-7
Ages: 8-12 years
Release Date: January 10, 2023
2 Hours
List Price: $34
ISBN: 9780593614921
Kaya's adventure begins in the first book in her series.

Kaya knows in her heart that her beautiful Appaloosa mare, Steps High, is the fastest horse in the herd. But when boasting leads to a daring bareback race, Kaya pushes Steps High too hard. She puts herself and the horse in danger and earns a terrible nickname for being untrustworthy. Kaya vows to be a girl her horse and her people can trust. When enemy raiders storm Kaya's village, she tries to save Steps High but gets taken captive herself, along with her sister. All Kaya can think of is escape, but how?

This audiobook includes a historical "Looking Back" section.

This audiobook includes a downloadable PDF containing a glossary of Nez Perce words heard throughout the story.