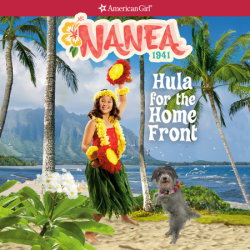 Nanea: Hula for the Home Front
Imprint: Listening Library
Grades: Grades 3-7
Ages: 8-12 years
Release Date: June 07, 2022
2 Hours and 54 Minutes
List Price: $34
ISBN: 9780593625927
Nanea's story continues with the second book in her series.

Everything has changed since the war started. Nanea had hoped that going back to school would make life seem normal again. But it hasn't. There are still curfews and blackouts and constant reminders of war. Nanea's dear friend Donna had to leave Hawaii, and Nanea's big brother won't stop talking about joining the Army. She can't bear the thought of him far from home and in danger. In the swirl of changes, Nanea turns to hula. Dancing makes her feel better, and soon she learns how much it lifts the spirits of the soldiers, too. When a surprising hula partner boosts everyone's morale, Nanea gets a big idea.

This audiobook includes a historical "Looking Back" section.

This audiobook includes a downloadable PDF containing a glossary of Hawaiian words heard throughout the story.