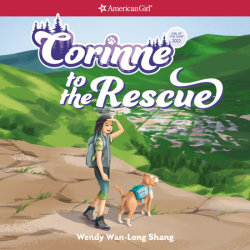 Corinne to the Rescue
Imprint: Listening Library
Grades: Grades 3-7
Ages: 8-12 years
Release Date: June 07, 2022
3 Hours and 3 Minutes
List Price: $34
ISBN: 9780593614624
Corinne's story continues in the second book in her series.

Corinne worries about how she'll keep up Flurry's training without snow. Luckily, she meets a dog trainer who agrees to become her mentor if she and Flurry can master some new skills. But learning them turns out to be harder than Corinne thought, thanks to interference from her sister Gwynn. Corinne thinks moving into her own room is the answer—that is, until Mom shares a huge update that will change their family forever. Suddenly, their annual camping trip becomes Corinne's last hope for mastering new skills with Flurry. But when disaster strikes during their trip, their training day turns into a real rescue mission—and her family's safety is at stake.

This audiobook includes a downloadable PDF containing a banana boat recipe and instructions for creating your own survival kit.