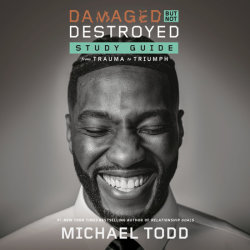 Damaged but Not Destroyed Study Guide
From Trauma to Triumph
Imprint: Books on Tape
Genre: Religion - Christian Living - Spiritual Growth

Release Date: October 03, 2023
3 Hours
List Price: $47.50
ISBN: 9780593662946
Good news—God's not done with you yet. This companion resource to Damaged but Not Destroyed by the #1 New York Times bestselling author of Relationship Goals will show you how to apply his key insights to pursue a hope-filled future, no matter your past mistakes or current challenges.

It's time to stop letting the pain you've experienced and the mistakes you've made define your value and your future. You are not less than or somehow unworthy, no matter your regrets, sin, or struggles. As someone who's overcome his own significant challenges, Pastor Michael Todd brings together Bible-rich teaching, personal insights, and reflection questions to help you experience growth and healing and ultimately see yourself as God sees you.
 
Along with candid lessons and pages for journaling, study sessions include:
• Simple exercises that help identify the types of damaging hits life has dealt you
• Reflection questions to help you observe the impact of those hits
• Prompts to guide you to consider how God is inviting you to step toward healing
• Relatable and encouraging scripture
• Prayers to send you into the day with a reminder of God's presence
 
Get unstuck and step into God's big, bold future for your life.