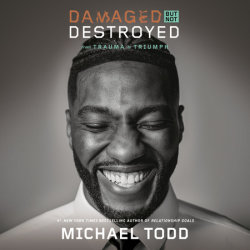 Damaged but Not Destroyed
From Trauma to Triumph
Imprint: Books on Tape
Genre: Religion - Christian Living - Spiritual Growth

Release Date: October 03, 2023
8 Hours
List Price: $57
ISBN: 9780593662922
The #1 New York Times bestselling author of Relationship Goals and Crazy Faith proves that no matter how badly you've messed up, no matter what hardship or pain you've experienced, nothing can destroy the priceless, God-given value of your life.

Through perspective-shifting insights gained by overcoming his own significant challenges, Pastor Michael Todd offers the encouragement you need to identify the damage you've experienced in life and practical tools to receive God's healing. With transparent and dynamic storytelling, Pastor Mike shares about the damaging hits he's received in life—sexual trauma, dumb choices, generational struggles, and letting coping mechanisms drive decisions. With hard-earned insights and an inspiring look at the biblical story of King David and Mephiboseth, Pastor Mike helps you overcome the lie that the mistakes you've made and the pain you've experienced have made you unworthy of God's love and calling.
 
Damaged but Not Destroyed gives you effective tools to
• pinpoint the impact damage has had in your life
• bring your pain into the presence of God
• learn to see yourself the way God sees you
• realize that healing is about progression, not perfection
• experience His powerful healing at work in your life
 
You'll learn how to get unstuck from your past, step into the bold future God has planned for you, and trust deep in your bones that you are handcrafted with love and purpose by the creator of the universe.