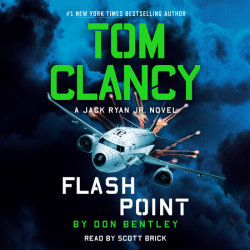 Tom Clancy Flash Point
Imprint: Random House Audio
Genre: Fiction - Thrillers - Suspense

Release Date: May 09, 2023
11 Hours
List Price: $40
ISBN: 9780593672396
Jack Ryan, Jr., uncovers a secret that may threaten the United States and its president, Jack Ryan, Sr., in the latest thrilling entry in the #1 New York Times bestselling series.

Jack Ryan, Jr., is a man of action, and when he uncovers a terrorist plot to kill innocents he jumps in to thwart the evil plan. However, it turns out this attack was just a piece of a larger, more insidious plot designed to deceive the United States and paint President Jack Ryan into a political corner.

Jack Jr. isn't about to let that happen, but his options are almost as narrow as his chances of getting out of this alive.