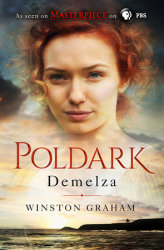 Demelza
A Novel of Cornwall, 1788-1790
Imprint: Books on Tape
Genre: Fiction - Historical - General

Release Date: April 14, 2015
14 Hours and 28 Minutes
List Price: $95
ISBN: 9781101926529
"From the incomparable Winston Graham...who has everything that anyone else has, then a whole lot more."
-The Guardian

Demelza is a heartwarming, gripping, and utterly entertaining saga that brings to life an unforgettable cast of characters and one of the greatest love stories of our age.

An impoverished miner's daughter, Demelza Carne is now married to Ross Poldark, who once rescued her from a fairground brawl. Her efforts to adapt to the ways of the gentry--and her husband--place her in hilarious and embarrassing situations, through which she becomes self assured, mannered and lovely, and the birth of her first child brings a joy she never experienced before.

But tragedy strikes where least expected, and sows the seeds of an enduring rivalry for Ross Poldark and the powerful George Warleggan, and tests Ross and Demelza's marriage and their love...




A Mammoth Screen production for BBC and Masterpiece
Masterpiece™ is a trademark of the WGBH Educational Foundation. Used with permission. 
The PBS Logo is a registered trademark of the Public Broadcasting Service and used with permission. 
Poldark is available on Blu-ray and DVD. To purchase, visit shopPBS.org. 
Photograph of Demelza: Mike Hogan. © Mammoth Screen Limited 2014.