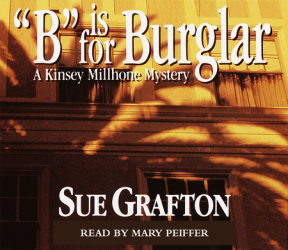 B Is for Burglar
Imprint: Books on Tape
Genre: Fiction - Mystery & Detective - General

Release Date: October 17, 2006
7 Hours and 43 Minutes
List Price: $59.90
ISBN: 9780739330012
2 cassettes / 3 hours
Read by Judy Kaye

Now available on CD!

Elaine Boldt is missing, and her sister wants Kinsey Millhone to find her.

Seems like a routine job.  Boldt was last seen lavishly draped in a $12,000 lynx coat heading for Boca Raton.  She never got there.  But someone else had, and was camping out illegally in Mrs. Boldt's abode.  Now, things were beginning to seem a bit less routine - particularly when Kinsey is ordered to drop the investigation just as she discovers that days before Elaine Boldt "bolted", her next-door neighbor and bridge partner had been murdered.  Unfortunately, the killer is still at large . . . and looking for Kinsey!