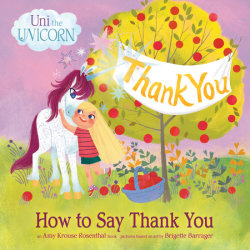 Uni the Unicorn: How to Say Thank You
Imprint: Listening Library
Genre: Juvenile Fiction - Animals - Dragons, Unicorns & Mythical
Ages: 3-7 years
Release Date: September 06, 2022
0 Hours and 7 Minutes
List Price: $22
ISBN: 9780593613597
New York Times bestseller Uni the Unicorn is ready to learn all the ways we say thank you!

Celebrate the magic of believing with Uni the Unicorn!
 
It's a beautiful Autumn day in the Land of Unicorns. When Uni finds a tree in the orchard drooping, Uni's friend Silky uses her magic to help the tree spring to life. Uni wants to say thank you, but isn't sure how. Sunshine? A song? A little bit of Uni magic?  Luckily, Uni knows just who to ask to learn how to say thank you!
 
UNI storybooks have a strong magical theme and a hopeful message. In Uni's beautiful world, we see Uni experiencing real world feelings that kids can identify with and familes want to hear about.