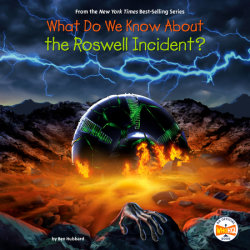 What Do We Know About the Roswell Incident?
Imprint: Listening Library
Grades: Grades 3-7
Ages: 8-12 years
Release Date: March 07, 2023
3 Hours
List Price: $34
ISBN: 9780593665718
The What Do We Know About? series explores the mysterious, the unknown, and the unexplained. Will we ever learn the truth about what actually landed at Roswell?

In 1947, an unusual object crashed in the New Mexico desert and was recovered by the Roswell Army Airfield officers. People everywhere began to speculate what the object could be. Could it possibly be a flying saucer? Would that be proof of aliens and life beyond Earth? Even decades later, some people still believe that the Roswell Incident is the most famous UFO sighting ever. Still, those who worked at the airfield insist it was just a weather balloon that had fallen from the sky. Was the Roswell Incident evidence of alien life, a government cover-up, or just a myth? Here are the facts about what we do know about Roswell.