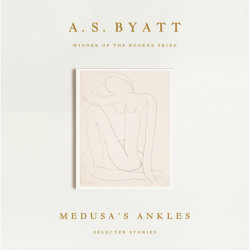 Medusa's Ankles
Selected Stories
Imprint: Books on Tape
Genre: Fiction - Short Stories (single author)

Release Date: November 23, 2021
13 Hours
List Price: $95
ISBN: 9780593508602
A ravishing, luminous selection of short stories from the prize-winning imagination of A. S. Byatt, drawn from her entire career.

Mirrors shatter at the hairdressers when a middle-aged client explodes in rage. Snow dusts the warm body of a princess, honing it into something sharp and frosted. Summer sunshine flickers on the face of a smiling child who may or may not be real.

Medusa's Ankles celebrates the very best of A. S. Byatt's short fiction, carefully selected from a lifetime of writing. Peopled by artists, poets, and fabulous creatures, the stories blaze with creativity and color. From ancient myth to a British candy factory, from a Chinese restaurant to a Mediterranean swimming pool, from a Turkish bazaar to a fairy-tale palace, Byatt transports her readers beyond the veneer of the ordinary—even beyond the gloss of the fantastical—to a place rich and strange and wholly unforgettable.