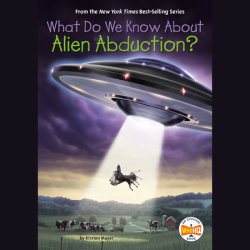 What Do We Know About Alien Abduction?
Imprint: Listening Library
Grades: Grades 3-7
Ages: 8-12 years
Release Date: July 11, 2023
0 Hours and 59 Minutes
List Price: $22
ISBN: 9780593682142
The What Do We Know About? series explores the mysterious, the unknown, and the unexplained. Are there really aliens visiting Earth to observe and interact with humans?

In 1961, Betty and Barney Hill claimed to have experienced a bizarre night that included extraterrestrials, flying saucers, and a few lost hours during which they could recall very little until they underwent hypnosis. Their mysterious story was just the first of many that have been told by people who have since come forward with their own similar experiences. Although there are thousands of people who claim to have experienced alien abduction, much of the world remains skeptical. Is alien abduction a real phenomenon that has affected people worldwide or just an imagined shared experience? Could the US government be working to cover up these stories? Here are the the facts about what we really know about Alien Abduction.