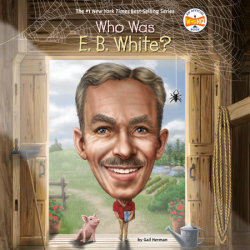 Who Was E. B. White?
Imprint: Listening Library
Grades: Grades 3-7
Ages: 8-12 years
Release Date: June 28, 2022
1 Hours and 2 Minutes
List Price: $22
ISBN: 9780593590690
An entertaining biography of the man behind Stuart Little and Charlotte's Web, two of the best loved children's books of all time. Learn about E.B. White's exciting life in this new addition to the #1 New York Times bestselling series!

Today, most people remember E. B. White as the beloved children's book author who gave us Charlotte's Web and Stuart Little, but did you know that most of his career was spent writing for famous magazines like The New Yorker? His lifelong dream to write a children's book about a mouse would take years to get published before it became the classic book we know and love today. A few years later, White would publish yet another children's book inspired by a pig he had raised and a spider whose webs he loved to admire in his barn.