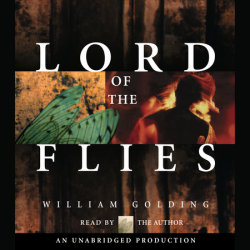 Lord of the Flies
Imprint: Listening Library
Grades: Grade 7 & Up
Ages: 12 and up
Release Date: October 17, 2006
6 Hours and 52 Minutes
List Price: $29.95
ISBN: 9780307281708
Categories:
Young Adult Fiction - Classics, Young Adult Fiction - Action & Adventure - Survival Stories, Young Adult Fiction - Literary
Tags:
classic, classics, dystopia, survival, literature, adventure, young adult, 20th century, island, british, boys, human nature, children, allegory, coming of age, ya, dystopian, british literature, society, school, english, horror, violence, english literature, social commentary, high school, william golding, classic literature, 1950s, childhood
William Golding's classic novel of primitive savagery and survival is one of the most vividly realized and riveting works in modern fiction. The tale begins after a plane wreck deposits a group of English school boys, aged six to twelve on an isolated tropical island. Their struggle to survive and impose order quickly evolves from a battle against nature into a battle against their own primitive instincts. Golding's portrayal of the collapse of social order into chaos draws the fine line between innocence and savagery.