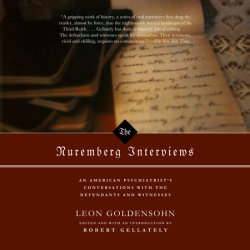 The Nuremberg Interviews
An American Psychiatrist's Conversations with the Defendants and Witnesses
Imprint: Books on Tape
Genre: History - Modern - 20th Century - Holocaust

Release Date: November 16, 2021
19 Hours and 16 Minutes
List Price: $95
ISBN: 9780593560570
The Nuremberg Interviews reveals the chilling innermost thoughts of the former Nazi officials under indictment at the famous postwar trial. The architects of one of history's greatest atrocities speak out about their lives, their careers in the Nazi Party, and their views on the Holocaust. Their reflections are recorded in a set of interviews conducted by a U.S. Army psychiatrist. Dr. Leon Goldensohn was entrusted with monitoring the mental health of the two dozen German leaders charged with carrying out genocide, as well as that of many of the defense and prosecution witnesses. These recorded conversations have gone largely unexamined for more than fifty years.

Now, Robert Gellately–one of the premier historians of Nazi Germany–has transcribed, edited, and annotated the interviews, and makes them available to the public for the first time in this volume.

Here are interviews with the highest-ranking Nazi officials in the Nuremberg jails, including Hans Frank, Hermann Goering, Ernst Kaltenbrunner, and Joachim von Ribbentrop. Here, too, are interviews with the lesser-known officials who were, nonetheless, essential to the workings of the Third Reich. Goldensohn was a particularly astute interviewer, his training as a psychiatrist leading him to probe the motives, the rationales, and the skewing of morality that allowed these men to enact an unfathomable evil. Candid and often shockingly truthful, these interviews are deeply disturbing in their illumination of an ideology gone mad.

Each interview is annotated with biographical information that places the man and his actions in their historical context. These interviews are a profoundly important addition to our understanding of the Nazi mind and mission.