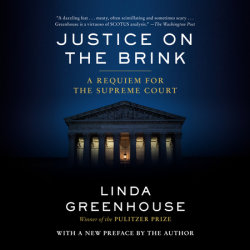 Justice on the Brink
The Death of Ruth Bader Ginsburg, the Rise of Amy Coney Barrett, and Twelve Months That Transformed the Supreme Court
Imprint: Books on Tape
Genre: Political Science - American Government - Judicial Branch

Release Date: November 09, 2021
9 Hours and 53 Minutes
List Price: $76
ISBN: 9780593504802
"This landmark book gives us an invaluable perspective on the Supreme Court in democracy's hour of maximum danger."—Jon Meacham

The gripping story of the year that transformed the Supreme Court into the court of Donald Trump and Amy Coney Barrett, from the Pulitzer Prize–winning law columnist for The New York Times

At the end of the Supreme Court's 2019–20 term, the center was holding. The predictions that the court would move irrevocably to the far right hadn't come to pass, as the justices released surprisingly moderate opinions in cases involving abortion rights, LGBTQ rights, and how local governments could respond to the pandemic, all shepherded by Chief Justice John Roberts. By the end of the 2020–21 term, much about the nation's highest court had changed. The right-wing supermajority had completed its first term on the bench, cementing Donald Trump's legacy on American jurisprudence.

This is the story of those twelve months. From the death of Ruth Bader Ginsburg to the rise of Amy Coney Barrett, from the pandemic to the election, from the Trump campaign's legal challenges to the ongoing debate about the role of religion in American life, the Supreme Court has been at the center of many of the biggest events of the year, with the liberal justices Sonia Sotomayor, Elena Kagan, and Stephen Breyer outnumbered six to three. Throughout Justice on the Brink, legendary journalist Linda Greenhouse, who won a Pulitzer Prize for her Supreme Court coverage, gives us unique insight into a court under stress, providing the context and brilliant analysis readers of her work in The New York Times have come to expect.

Ultimately, Greenhouse asks a fundamental question relevant to all Americans: Is this still John Roberts's Supreme Court, or does the court now belong to Donald Trump?