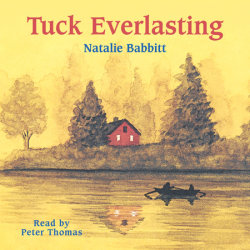 Tuck Everlasting
Imprint: Listening Library
Grades: Grades 4-7
Ages: 9-12 years
Release Date: February 12, 2008
3 Hours and 32 Minutes
List Price: $30
ISBN: 9781400089994
Categories:
Juvenile Fiction - Fantasy & Magic, Juvenile Fiction - Classics, Juvenile Fiction - Social Themes - General (See Also Headings Under Family)
Tags:
fantasy, immortality, young adult, family, friendship, ya, children's, death, love, eternal life, classic, children, classics, magic, romance, fountain of youth, children's literature, children's fiction, juvenile, adventure, historical fiction, coming of age, aging, juvenile fiction, life, modern fantasy, movie, youth, kids, secrets
When ten-year-old Winnie Foster stumbles upon the Tuck family's disturbing secret, she is forced to come to terms with her conflicting emotions. She feels drawn to the loving, gentle and rather eccentric Tucks, but what they tell her is too incredible to be believed. Doomed to—or blessed with—eternal life after drinking from a magic spring, the Tuck family tries to make Winnie understand that the terrible magic of the forest spring can never be revealed. The consequences to the world could prove to be disastrous!

But then an unexpected complication arises when Winnie is followed by a stranger who wants to sell the spring water and make a fortune.