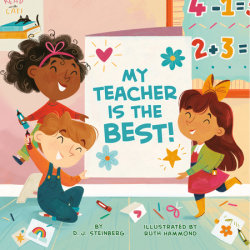 My Teacher Is the Best!
Imprint: Listening Library
Grades: Preschool - 3
Ages: 4-8 years
Release Date: March 29, 2022
0 Hours and 7 Minutes
List Price: $22
ISBN: 9780593503287
From the bestselling author of the hugely popular Kindergarten, Here I Come! comes an ode to that special teacher in every young child's life!

Children can celebrate the special teacher in their life with this collection of short poems -- one to a page -- that sings the praises of the excellent educator they know and love. From their kindness working with their students to their ability to make the most complicated of topics make sense, this is the perfect gift book for any teacher, written by the author of the bestselling Here I Come! series, D. J. Steinberg.