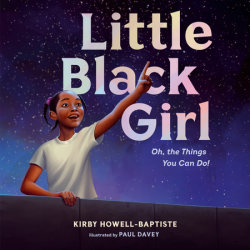 Little Black Girl
Oh, the Things You Can Do!
Imprint: Listening Library
Grades: Preschool - 3
Ages: 4-8 years
Release Date: November 15, 2022
0 Hours and 4 Minutes
List Price: $22
ISBN: 9780593610381
An empowering and joyous picture book by actress Kirby Howell-Baptiste (The Sandman) that instills confidence and encourages little Black girls to reach for their wildest dreams, adapted for audio.

This inspiring audiobook celebrates all little Black girls, the power of community, and the joy and hope of being a child.

In beautiful, lyrical text actress Kirby Howell-Baptiste tells the story of one Black girl and her limitless potential as she pursues her dream of robotics. Determined to have her robot ready for the school fair, getting everything done in time won't be easy, but this little Black girl knows she is destined to shine and is not going to let anything hold her back from achieving her dream. With bright, bold plans in mind she begins to sketch and build her robot. The joy she has pursuing her passion is infectious and she has a community of strong women around her, encouraging and supporting her as she lives out her dream.

You have sparks in your brain and fire in your heart.
You can decide where to stop and where to start.
You were born unique. None of us are the same.
Your only job: Make them remember your name.