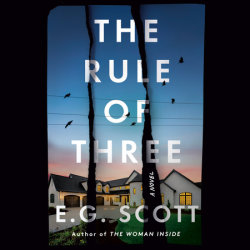 The Rule of Three
A Novel
Imprint: Books on Tape
Genre: Fiction - Thrillers - Suspense

Release Date: August 09, 2022
9 Hours and 22 Minutes
List Price: $76
ISBN: 9780593585320
From E. G. Scott, the utterly gripping tale of three couples whose game night goes horribly wrong. Full of twists and turns that you'll never see coming, this is the summer read you won't be able to put down.

Once a week, three women get together for book club in Kingsland, a private, gated community full of neighbors looking to do their business away from prying eyes. On the same night, their husbands meet up to play poker, where much more is being planned than anyone could guess.
 
But on this particular night, something goes terribly wrong. When all three men end up dead or hospitalized, and the entire town is being questioned, no one seems to be able to answer the only question that really needs asking: What the hell happened?
 
This is a riveting story, not just of powerful women or vengeful men, but of secrets, neighbors, blackmail, business gone wrong, and the most intimate of desires spilling into full view.