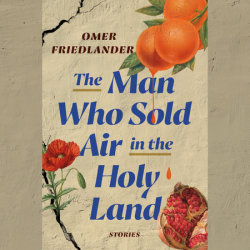 The Man Who Sold Air in the Holy Land
Stories
Imprint: Books on Tape
Genre: Fiction - Literary

Release Date: April 12, 2022
8 Hours
List Price: $66.50
ISBN: 9780593558102
A brilliant young author's stunning fiction debut: gorgeously immersive and imaginative stories set in Israel and the Middle East that transcend borders as they render the intimate lives of people striving for connection

Omer Friedlander's debut story collection announces the arrival of a natural-born storyteller of immense literary talent. Warm, poignant, delightfully whimsical, The Man Who Sold Air in the Holy Land brings a reader to the narrow limestone alleyways of Jerusalem, the desolate beauty of the Negev Desert, and the sprawling orange groves of Jaffa. A divorced con artist and his young daughter sell empty bottles of "holy" air to credulous tourists; a Lebanese Scheherazade enchants three young soldiers in a bombed-out Beirut radio station with her nightly tales; a young boy daringly "rooftops" at night, climbing steel cranes in scuffed sneakers even as he reimagines the bravery of a Polish-Jewish dancer during the Holocaust; an Israeli volunteer at a West Bank checkpoint mourns the death of her son, a soldier killed in Gaza.

These stories are fairy tales turned on their head by the stakes of real life, where moments of fragile intimacy mix with notes of the absurd, painted throughout in vivid colors that recall Chagall's brushstrokes. Demonstrating remarkable restraint and control, Friedlander's prose leaps off the page, in stories that have a universal appeal to the heart.