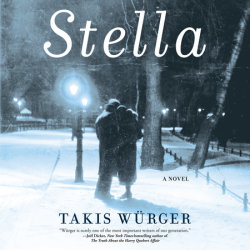 Stella
Imprint: Books on Tape
Genre: Fiction - Historical - 20th Century - World War II

Release Date: March 09, 2021
4 Hours and 58 Minutes
List Price: $47.50
ISBN: 9780593402603
From the internationally bestselling author of The Club comes a new novel of love and betrayal, set in Berlin in 1942

In 1942, Friedrich, an even-keeled but unworldly young man, arrives in Berlin from bucolic Switzerland with dreams of becoming an artist. At a life drawing class, he is hypnotized by the beautiful model, Kristin, who soon becomes his energetic yet enigmatic guide to the bustling and cosmopolitan city, escorting him to underground jazz clubs where they drink cognac, dance, and kiss. The war feels far away to Friedrich, who falls in love with Kristin as they spend time together in his rooms at the Grand Hotel, but as the months pass, the mood in the city darkens as the Nazis tighten their hold on Berlin, terrorizing any who are deemed foes of the Reich.

One day, Kristin comes back to Friedrich's rooms in tears, battered and bruised. She tells him that her real name is Stella, and that she is Jewish, passing for Aryan. More disturbing still, she has troubling connections with the Gestapo that Friedrich does not fully understand. As Friedrich confronts Stella's unimaginable choices, he finds himself woefully unprepared for the history he is living through. Based in part on a real historical character, Stella sets a tortured love story against the backdrop of wartime Berlin, and powerfully explores questions of naiveté, young love, betrayal, and the horrors of history.