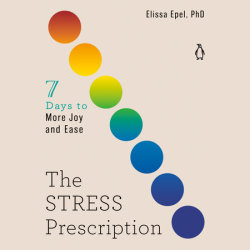 The Stress Prescription
Seven Days to More Joy and Ease
Imprint: Books on Tape
Genre: Self-Help - Self-Management - Stress Management

Release Date: December 27, 2022
5 Hours
List Price: $57
ISBN: 9780593629215
From world-renowned psychologist and New York Times–bestselling author Dr. Elissa Epel, a simple yet powerful plan to turn your stress into your strength in just seven days

We can't avoid stress. But we can embrace it and transform it.

Whether we're facing deadlines, difficulties with family or friends, personal crises, or just the uncertainty of the world—stress is the ocean we swim in. Even our negative thoughts can trigger our body's stress response so we rarely experience periods of ease and deep restoration.

In The Stress Prescription, Dr. Epel distills decades of research, infused with wisdom, into a practical yet transformative seven-day plan of science-based techniques that can help you harness stress through more positive challenge and purpose. Dr. Epel shows us how we can "stress better"—by training our minds and bodies to shift towards a flexible, beneficial stress response that can actually enhance health. You will develop a more robust mindset, build the resources you need to turn stress into strength, and fill your days with more joy, connection, and ease.