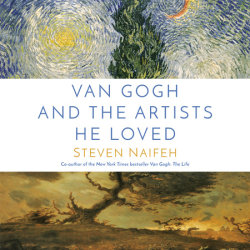 Van Gogh and the Artists He Loved
Imprint: Books on Tape
Genre: Art - History - Modern (Late 19Th Century To 1945)

Release Date: November 02, 2021
4 Hours and 55 Minutes
List Price: $47.50
ISBN: 9780593416174
The compelling story of how Vincent van Gogh developed his audacious, iconic style by immersing himself in the work of others, featuring paintings by Van Gogh as well as the artists who inspired him—from the New York Times bestselling co-author of Van Gogh: The Life

Vincent van Gogh's paintings look utterly unique—his vivid palette and boldly interpretive portraits are unmistakably his. Yet however revolutionary his style may have been, it was actually built on a strong foundation of paintings by other artists, both his contemporaries and those who came before him. 

Now, drawing on Van Gogh's own thoughtful and often profound comments about the painters he venerated, Steven Naifeh gives a gripping account of the artist's deep engagement with their work. We see Van Gogh's gradual discovery of the subjects he would make famous, from wheat fields to sunflowers. We watch him experimenting with the loose brushwork and bright colors used by Édouard Manet, studying the Pointillist dots used by Georges Seurat, and emulating the powerful depictions of the peasant farmers painted by Jean-François Millet, all vividly illustrated in full-color images of works by Van Gogh and a variety of other major artists.

Thanks to the vast correspondence from Van Gogh to his beloved brother, Theo, Naifeh, a Pulitzer Prize winner, is able to reconstruct Van Gogh's artistic world from within. Observed in eloquent prose that is as compelling as it is authoritative, Van Gogh and the Artists He Loved enables us to share the artist's journey as he created his own daring, influential, and widely beloved body of work. 

This audiobook contains a downloadable PDF of images of selected works of art mentioned in the book.