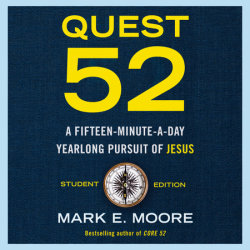 Quest 52 Student Edition
A Fifteen-Minute-a-Day Yearlong Pursuit of Jesus
Imprint: Books on Tape
Genre: Religion - Christian Education - Children & Youth

Release Date: November 16, 2021
8 Hours and 13 Minutes
List Price: $57
ISBN: 9780593417669
The bestselling author of Quest 52 and Core 52 Student Edition presents a fifteen-minute-a-day plan that helps teens to know and become more like Jesus over the course of a year.

Who is Jesus . . . really? Is he the world's nicest guy? A social-justice champion? Is he super accepting or overly judgmental? If you're ready for real answers rather than popular opinion, you're in the right place.
 
Quest 52 Student Edition is your way to experience the life and heart of Jesus like never before. Daily readings include a mix of biblical passages from the life of Jesus, fresh insights into his purpose and character, opportunities to engage with others, and practical ways to put what you've learned into practice.
 
In just fifteen minutes a day, over the course of a year, you'll come face to face with Jesus in 52 unforgettable encounters. Let respected Bible professor and teaching pastor Mark Moore be your guide. He developed this process to help students like you make sense of Christianity.
 
Gain clarity on topics such as:
• Does Jesus care about your pain?
• Can Jesus forgive you for, well, you know?
• Does God play favorites?
• What does Jesus say about social justice?
• Does your past determine your future?
 
This quest will enhance your understanding of Jesus in ways that will forever change how you make choices, engage with others, interpret today's big issues, and even view yourself!