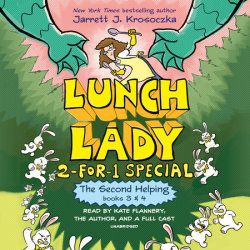 The Second Helping (Lunch Lady Books 3 & 4)
The Author Visit Vendetta and the Summer Camp Shakedown
Narrator:
Kate Flannery
,
Jarrett J. Krosoczka
,
Carol Monda
,
Cary Hite
,
Zoe Krosoczka
,
Trey Murphy
,
Kyan Samuels
,
Jim Frangione
,
Johnny Heller
,
Davu Smith
,
Lauren Fortgang
,
Kevin R. Free
,
Neil Hellegers
&
Full Cast
Imprint: Listening Library
Grades: Grades 3-7
Ages: 8-12 years
Release Date: February 22, 2022
1 Hours
List Price: $15
ISBN: 9780593502068
Perfect for fans of Dogman and The Bad Guys, the popular Lunch Lady graphic novels are now available as two adventures in one audiobook...from the author of National Book Award finalist Hey, Kiddo!

Lunch Lady has villains to fight at school and camp in this action-packed book. First, Dee, Terrence, and Hector come face to face with a very special guest on Author Visit Day--but there's something a little off about the world-famous writer. What evil designs does he have on his agenda? Then, the kids take a sigh of relief and are relaxing at summer camp. What evils could befall them there? Of course, there is the legendary swamp monster. Stories say he haunts the camp at night. But that's just a legend. Or is it?

This audiobook adaptation of the graphic novels Lunch Lady and the Author Visit Vendetta and Lunch Lady and the Summer Camp Shakedown includes an author's note.