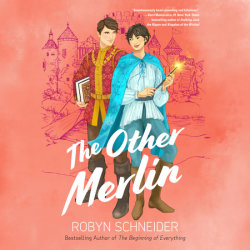 The Other Merlin
Imprint: Listening Library
Grades: Grade 9 & Up
Ages: 14 and up
Release Date: September 21, 2021
10 Hours
List Price: $63
ISBN: 9780593456439
Channeling the modern humor of A Knight's Tale, bestselling author Robyn Schneider creates a Camelot that becomes the ultimate teen rom-com hotspot in this ultra-fresh take on the Arthurian legend.

For as long as she could remember, all Emry wanted was to be a great magician like her father, the magnificent Merlin. As a kid, she fought to be included in his magic lessons for her twin brother, Emmet, and easily outshone him with each spell she cast. But after her father's disappearance several years ago, Emry has been feeling a little lost. Fate soon appears in the form of a royal messenger, summoning Emmet to court to serve as Prince Arthur's right-hand wizard. With Emmett indisposed thanks to a bad spell, Emry has to disguise herself as a teen boy and pretend to be her brother at the castle until they're able to switch.

Training as a wizard is everything Emry hoped it would be, except working so closely with the unbearably hot Arthur is a growing danger. They soon share adventures and a connection that can't be denied, but Emry's secret is a crime punishable by death. When royal scandals involving Lancelot, Guinevere, and Gawain threaten to reveal her truth, Emry must decide whether to stay and risk everything for a love borne out of deceit, or leave and never fulfill her potential to be Camelot's greatest magician.