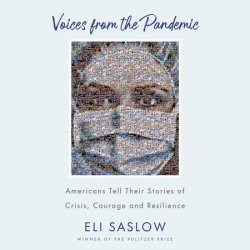 Voices from the Pandemic
Americans Tell Their Stories of Crisis, Courage and Resilience
Narrator:
Hillary Huber
,
Mark Bramhall
,
Dion Graham
,
Alejandra Reynoso
,
Matt Godfrey
,
Amy Landon
,
Amanda Carlin
,
Andrew Eiden
,
Henry Leyva
,
Chanté McCormick
,
Robert Fass
&
Eli Saslow
Imprint: Books on Tape
Genre: History - United States - 21St Century

Release Date: September 28, 2021
6 Hours and 38 Minutes
List Price: $57
ISBN: 9780593455517
A powerful and cathartic portrait of a country grappling with the Covid-19 pandemic—from feeling afraid and overwhelmed to extraordinary resilient—told through voices of people from all across America • From the Pulitzer Prize–winning reporter and author of Rising Out of Hatred

The Covid-19 pandemic was a world-shattering event, affecting everyone in the nation. From its first ominous stirrings, renowned journalist Eli Saslow began interviewing a cross-section of Americans to capture their experiences in real time: An exhausted and anguished EMT risking his life in New York City; a grocery store owner feeding his neighborhood for free in locked-down New Orleans; an overwhelmed coroner in Georgia; a Maryland restaurateur forced to close his family business after forty-six years; an Arizona teacher wrestling with her fears and her obligations to her students; rural citizens adamant that the entire pandemic is a hoax, and retail workers attacked for asking customers to wear masks; patients struggling to breathe and doctors desperately trying to save them.

Through Saslow's masterful, empathetic interviewing, we are given a kaleidoscopic picture of a people dealing with the unimaginable. These deeply personal accounts constitute a crucial, heartbreaking record of the sweep of experiences during this troubled time, and show us America from its worst and to its resilient best.