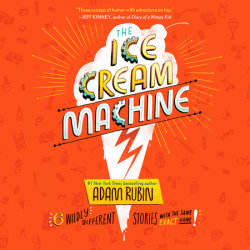 The Ice Cream Machine
Imprint: Listening Library
Grades: Grades 3-7
Ages: 8-12 years
Release Date: February 15, 2022
6 Hours and 48 Minutes
List Price: $50
ISBN: 9780593502921
From the wild and wonderful imagination of the #1 New York Times bestselling author of Dragons Love Tacos comes this hilarious, irresistible middle grade debut, a collection of six totally different stories with the same exact name.

Listener, be advised that the events in this audiobook may tickle your funny bone: A boy and his robot nanny travel the globe in search of the world's tastiest treat. A girl and her sister compete in an ice cream eating contest—against an honest-to-goodness pig. A child prodigy invents a new way to create the freshest dessert ever. And we should probably mention the evil ice cream seller terrorizing local kids; the sorcerer's assistant who must conjure icy cream out of thin air for the king, or else; and the sole human subject stuck on a giant alien space lab, who longs for the taste of home.

So grab a cup or a cone, and watch out for brain freeze! You'll definitely want to save room for this treat.