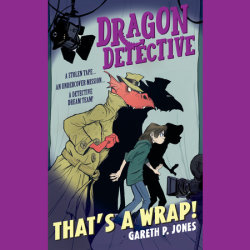 That's a Wrap!
Imprint: Listening Library
Grades: Grades 2-5
Ages: 7-10 years
Release Date: January 12, 2021
3 Hours and 48 Minutes
List Price: $38
ISBN: 9780593344460
"The Dragon Detective Agency. Dirk Dilly speaking."

When Holly and her family fly to LA for a holiday, it promises to be the trip of a lifetime. On her first day exploring the city of dreams, Holly befriends a movie director, who's captured something suspiciously dragonlike on camera while filming out in the desert. But before she can examine the tape properly, it goes missing...

Holly asks her partner-in-solving-crime, dragon detective Dirk Dilly, to join her on the hunt for clues in Hollywood. Will they be able to find the film before it falls into the wrong hands and exposes the existence of dragonkind to the world? 

The final instalment in a fun and action-packed detective series for fans of TOTO THE NINJA CAT, HOW TO TRAIN YOUR DRAGON and Tom Fletcher's children's books!