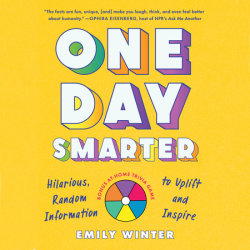 One Day Smarter
Hilarious, Random Information to Uplift and Inspire
Imprint: Books on Tape
Genre: Humor - Form - Trivia

Release Date: October 12, 2021
3 Hours and 45 Minutes
List Price: $38
ISBN: 9780593460689
Dominate trivia night, liven up a date, and impress everyone you know with this funny, weird, smart book of little-known facts.


Did you know a group of bunnies is called a fluffle? Or that the people who voiced Mickey and Minnie Mouse were married in real life? How about this one: In ancient Persia, government officials debated laws twice—once sober and once drunk?
 
We could all use a little good news right now. Comedian and writer Emily Winter is here to tell you confidently that there is kindness, beauty, empathy, humor, resilience, wonder, silliness, cuteness, strength, hope, and joy in our world. With this book in hand, you can make yourself that much smarter while also lighting up your brain with positivity.


* This audiobook includes a downloadble PDF of trivia games, with answers!