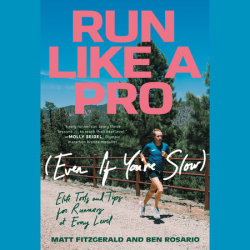 Run Like a Pro (Even If You're Slow)
Elite Tools and Tips for Runners at Every Level
Imprint: Books on Tape
Genre: Sports & Recreation - Running & Jogging

Release Date: March 01, 2022
8 Hours and 5 Minutes
List Price: $76
ISBN: 9780593560259
Cutting-edge advice on how to achieve your personal best, for everyone from casual runners to ultramarathoners.

In 80/20 Running, respected running and fitness expert Matt Fitzgerald introduced his revolutionary training program and explained why doing 80 percent of runs at a lower intensity and just 20 percent at a higher intensity is the best way for runners at all levels--as well as cyclists, triathletes, and even weight-loss seekers--to improve their performance.

Now, in this eye-opening follow-up, Fitzgerald teams with Olympic coach Ben Rosario to expand and update the 80/20 program to include ultramarathon training and such popular developments as the use of power meters.

New research has bolstered the case that the 80/20 method is in fact that most effective way to train for distance running and other endurance sports. Run Like a Pro (Even If You're Slow) shows readers how to take the best practices in elite running and adopt them within the limits of their own ability, lifestyle, and budget.


* This audiobook contains a downloadable bonus PDF of useful exercise images and includes all training plans from the book.