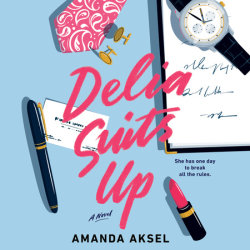 Delia Suits Up
Imprint: Books on Tape
Genre: Fiction - Women

Release Date: August 03, 2021
7 Hours and 35 Minutes
List Price: $66.50
ISBN: 9780593410103
"A hilarious, laugh-out-loud, thoroughly entertaining story."—Helena Hunting, New York Times bestselling author
 
She has one day to break all the rules. Delia Reese takes the financial world by storm in this breakout novel that's Freaky Friday meets She's the Man.

Just once, Delia Reese wants to be the one calling the shots—not the one waiting to be called. Despite her stellar resume, hiring managers at the big banks won't give her a chance.

Following yet another failed interview, Delia commiserates with her roommates and drunkenly finds herself wishing she had the advantages that come with being a man. If society wasn't locked into gender roles, she'd be climbing the corporate ladder in designer heels with no apologies. By morning, her mirror reflects a surprising makeover.

Now that the world sees her as a man, Delia's determined to double down on society's double standards. With a smart suit and powerfully pink necktie, she hits New York's financial district with a big gamble in mind.