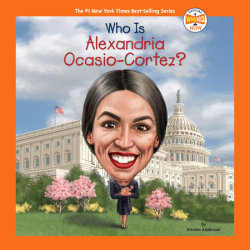 Who Is Alexandria Ocasio-Cortez?
Imprint: Listening Library
Grades: Grades 3-7
Ages: 8-12 years
Release Date: March 16, 2021
0 Hours and 29 Minutes
List Price: $22
ISBN: 9780593400838
The inspiring story of the youngest woman ever elected to Congress, told in the new Who HQ Now format for trending topics.

On June 26, 2018, twenty-eight-year-old Alexandria Ocasio-Cortez, a bartender from New York City, became the youngest woman ever elected to serve on Congress. Her win shocked the political world and she became a celebrity overnight. Soon, everyone knew her by her initials: AOC. As soon as she was sworn into office, AOC became a vocal champion for healthcare for all and the fight against climate change. This exciting story details the defining moments of what led to her victory and all the monumental ones since that have shaped her into a smart politician willing to fight for others, the environment, and the future of America.