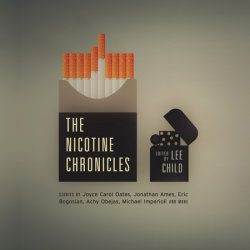 The Nicotine Chronicles
Imprint: Books on Tape
Genre: Fiction - Anthologies (multiple authors)

Release Date: September 15, 2020
8 Hours and 10 Minutes
List Price: $76
ISBN: 9780593295687
In recent years, nicotine has become as verboten as many hard drugs. The literary styles in this volume are as varied as the moral quandaries herein, and the authors have successfully unleashed their incandescent imaginations on the subject matter, fashioning an immensely addictive collection.

Featuring brand-new stories by: Lee Child, Joyce Carol Oates, Jonathan Ames, Eric Bogosian, Achy Obejas, Michael Imperioli, Hannah Tinti, Ariel Gore, Bernice L. McFadden, Cara Black, Christopher Sorrentino, David L. Ulin, Jerry Stahl, Lauren Sanders, Peter Kimani, and Robert Arellano.

Inspired by the ongoing international success of the city-based Akashic Noir Series (Brooklyn Noir, Boston Noir, Paris Noir, etc.), Akashic created the Drug Chronicles Series in 2011. Following The Speed Chronicles (William T. Vollmann, Megan Abbott), The Cocaine Chronicles (Lee Child, Laura Lippman), The Heroin Chronicles (Jerry Stahl, Eric Bogosian, Lydia Lunch), and The Marijuana Chronicles (Lee Child, Joyce Carol Oates) comes The Nicotine Chronicles, masterfully curated by blockbuster hit maker Lee Child.