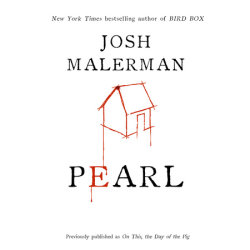 Pearl
Imprint: Books on Tape
Genre: Fiction - Thrillers - Suspense

Release Date: October 12, 2021
8 Hours
List Price: $66.50
ISBN: 9780593456095
From the New York Times bestselling author of Bird Box and Malorie comes the legend of a strange new monster unlike any other in horror.

Go to the farm just outside of town and you'll hear it.

A voice. Inside your head.

Or is it?

Come to me. . . .

A voice that makes you want to pick up that axe over in the corner of the barn.

And swing it.

And kill.

Feed us. Feed us now.

It is the voice of Pearl.

Sing for me. Sing for your precious Pearl. . . .