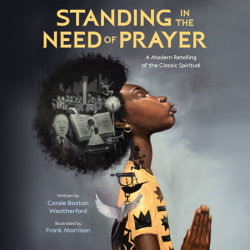 Standing in the Need of Prayer
A Modern Retelling of the Classic Spiritual
Imprint: Listening Library
Grades: Grades 1-4
Ages: 6-9 years
Release Date: September 20, 2022
0 Hours and 19 Minutes
List Price: $22
ISBN: 9780593613719
From an award-winning author comes a stunning and deeply moving book based on the popular spiritual "Standing in the Need of Prayer." The classic lyrics have been reworked to chronicle the milestones, struggles, tragedies, and triumphs of African American history.

This inspirational audiobook encapsulates African American history and invites conversations at all levels. Carole Boston Weatherford's riveting text is an informative reminder of yesterday, a hopeful image for today, and an aspirational dream of tomorrow.
 
Starting from 1619 and stretching more than four hundred years, this audiobook features such pivotal moments in history as the arrival of enslaved people in Jamestown, Virginia; Nat Turner's rebellion; the integration of the US military; the Selma to Montgomery marches; and peaceful present-day protests. It also celebrates the feats of African American musicians and athletes, such as Duke Ellington and Florence Griffith Joyner.
 
At the end of the audiobook, listeners will find descriptions of the people, places, and events that are featured, along with a note from Carole Boston Weatherford.
 
Incredibly timely, this book reckons with a painful history while serving as a testament to the human spirit's ability to persevere in even the most hopeless of circumstances. Its universal message of faith, strength, and resilience will resonate with listeners of all ages.