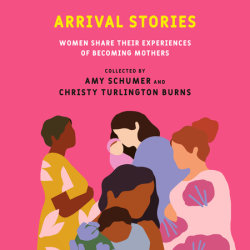 Arrival Stories
Women Share Their Experiences of Becoming Mothers
Narrator:
Amy Schumer
,
Christy Turlington Burns
,
Adenrele Ojo
,
Alysia Montano
,
Amanda P. Williams
,
Amber Tamblyn
,
Angel Geden
,
Ashley Graham
,
Cassandra Campbell
,
Emily Oster
,
Emma Hansen
,
Jennie Heddry
&
Full Cast
Imprint: Books on Tape
Genre: Family & Relationships - Parenting - Motherhood

Release Date: April 05, 2022
5 Hours and 54 Minutes
List Price: $57
ISBN: 9780593348758
A wide range of women—actors, athletes, academics, CEOs, writers, small-business owners, birth workers, physicians, and activists—share their experiences of becoming mothers in this multifaceted, moving, and revealing collection.

Throughout her difficult pregnancy and following her frightening labor experience, Amy Schumer found camaraderie and empowerment in hearing birth stories from other women, including those of her friend Christy Turlington Burns. Turlington Burns's work in maternal health began after she experienced a childbirth-related complication in 2003—an experience that would later inspire her to direct and produce the documentary feature film No Woman, No Cry, about the challenges women face throughout pregnancy and childbirth around the world.

It is through Schumer and Turlington Burns's conversations that the idea for Arrival Stories was born. By sharing their experiences, the contributors to Arrival Stories offer an informative and deeply affecting account of what it feels like when a woman first realizes she is a mother. This beautiful collection features essays by: 

Serena Williams • Alysia Montaño • Abby G. Lopez • Amber Tamblyn • Shilpa Shah • Christy Turlington Burns • Emily Oster • Emma Hansen • Leslie Feist • Amanda Williams • Angel Geden • Adrienne Bosh • Latham Thomas • Rachel Feinstein • Ashley Graham • Jill Scott • Jennie Jeddry and Kim DeLise • La La Anthony • Shea Williams • Sienna Miller • Katrina Yoder • Amy Schumer

Intimate and urgent, Arrival Stories offers a panoramic view of motherhood and highlights the grave injustices that women of color face in maternal healthcare. It is the perfect book for any expectant or new mother, or for anyone who knows and loves one.