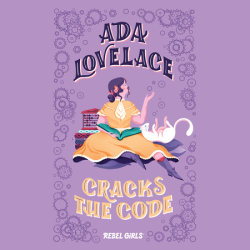 Ada Lovelace Cracks the Code
Imprint: Listening Library
Grades: Grades 1-4
Ages: 6-9 years
Release Date: November 12, 2019
1 Hours and 14 Minutes
List Price: $28
ISBN: 9780593209387
From the world of Good Night Stories for Rebel Girls comes the historical fiction novel about the exciting life and adventures of Ada Lovelace.

In Ada Lovelace Cracks the Code, Ada uses her incredible imagination to dream up technology that could have jump started the digital age nearly two hundred years ago. In fact, she writes what will become the world's first programming language. As a child, Ada is curious about everything. She is obsessed with machines and creatures that fly, even going so far as to write her own book about them called "Flyology." Along with her cat, Mistress Puff, Ada gets into all sorts of trouble. According to her mother, Ada is a bit too wild and her imagination could benefit from some discipline, so she puts Ada into a rigorous syllabus of mathematics, languages, and geography.

This audiobook includes a bonus PDF with activities based on simple coding and mathematical concepts.