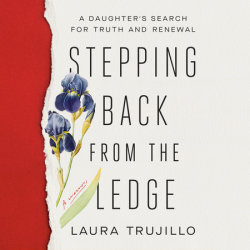 Stepping Back from the Ledge
A Daughter's Search for Truth and Renewal
Imprint: Books on Tape
Genre: Biography & Autobiography - Personal Memoirs

Release Date: April 19, 2022
8 Hours
List Price: $66.50
ISBN: 9780593557464
In this stunning memoir, a daughter seeks renewal as she confronts her family's history of secrets, in the aftermath of her mother's death.


Laura and her mother share an incredible bond, but each protects the other from the deepest truths about their lives. When her mother takes her own life, Laura is forced to come to terms with what she didn't know--about her mother and about herself. From the trauma of sexual abuse to the unbearable weight of depression, Laura examines the sources of her heartbreak. She traces the subtle signs of her mother's unhappiness, wrestles with her guilt, and ultimately forges a new path forward.

Punctuated by gorgeous descriptions of the Grand Canyon, a place her mother loved, the place where she died, and a place to which Laura returns in her search for redemption and peace, Stepping Back from the Ledge is a beautiful and courageous memoir offering an intimate window into the healing and hope that can come from facing painful truths.