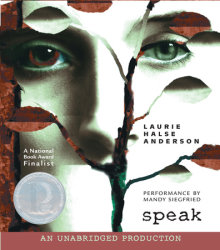 Speak
Imprint: Listening Library
Grades: Grade 7 & Up
Ages: 12 and up
Release Date: November 14, 2006
5 Hours and 1 Minutes
List Price: $30
ISBN: 9780739336724
Categories:
Young Adult Fiction - Social Themes - Sexual Abuse, Young Adult Fiction - Social Themes - Mental Illness, Young Adult Fiction - Girls & Women
Tags:
rape, young adult, ya, high school, depression, realistic fiction, teen, art, friendship, coming of age, abuse, peer pressure, bullying, silence, date rape, contemporary, sexual abuse, school, outcasts, cliques, drama, girls, teens, sexual assault, trauma, emotional problems, teen fiction, teenagers, realistic, family
From her first moment at Merryweather High, Melinda Sordino knows she's an outcast. She busted an end-of-summer party by calling the cops — a major infraction in high-school society — so her old friends won't talk to her, and people she doesn't know glare at her. She retreats into her head, where the lies and hypocrisies of high school stand in stark relief to her own silence, making her all the more mute. But it's not so comfortable in her head, either — there's something banging around in there that she doesn't want to think about. Try as she might to avoid it, it won't go away, until there is a painful confrontation. Once that happens, she can't be silent — she must speak the truth.
In this powerful audiobook, an utterly believable, bitterly ironic heroine speaks for many a disenfranchised teenager while learning that, although it's hard to speak up for yourself, keeping your mouth shut is worse.